Back from my 36w6d u/s and OB appt. He is measuring in at 39 weeks already (and was sucking his thumb the entire time). He has CHUBBY CHUBBY cheeks! Since he's measuring so far ahead they estimate him to be anywhere from 7lbs6oz-7lbs11oz right now. So we have to have another u/s in 2 weeks to check his growth because of my pelvic structure to make sure I will be able to deliver him and try and avoid a c-section, we may have to set up an induction date which I would rather avoid, but I guess anything for a healthy baby. I do love my Dr though she said she won't ever (unless for emergency) take away my chance to at least try to deliver vaginally. She said it's still early and we will talk more about it next week and the week after that.
Here's my chubby buddy, tilt your head to the right, his eyes are on the right, you can see his chubby cheeks and he's got his thumb in his mouth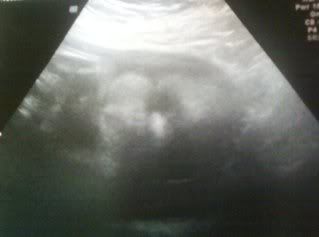 Sorry I haven't been updating as much, I've been so so tired!