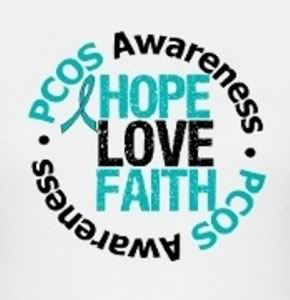 Well this is my 300th post and perfect timing because September is PCOS Awareness Month! Have you hugged an infertile today?
Did you know:
10% of all women have PCOS
PCOS is the #1 cause of infertility
About 50% of women with PCOS get insulin resistance (which can cause impaired glucose tolerance or Type 2 diabetes)
Women with PCOS have a higher risk of miscarriage if they do get pregnant
Women with PCOS have a 4 to 7 times greater risk of having a heart attack than normal people
Women with PCOS have a greater risk of high blood pressure
Women with PCOS run the risk of endometrial cancer
Those are just a few of the many many saddening facts of PCOS.
Remember that the more we talk openly about PCOS and other infertility issues, the less taboo they are and hopefully will eventually be looked at as the serious medical issues they really are.
Never give up Hope and spread the word.