I woke up at 5am Sunday February 20th to get ready for my induction that day and we were checked into our room at the hospital at 7:30am. I got changed into my hospital gown and just hung out for a little while waiting for the nurse to come in and get things started.
The nurse came in, and we signed what felt like 100 papers and forms and I was checked and was still only 1cm, so we started the Pitocin at 8:10am. I was really really scared to be induced and I was scared of the pitocin contractions, (to the point of almost throwing up in the parking structure of the hospital while walking in) but I was scared for nothing! They start you off on a very very low dose and gradually bump it up during the day, so gradual in fact that in the beginning I couldn't even feel the contractions as they were happening. My Dr came in around 9:30ish and I was still like 1.5 cm, so she broke my water to help speed things up a bit, which was the craziest feeling ever. It didn't hurt, it just felt like I peed myself lol.
Our families slowly arrived and hung out in our room for most o the early labor process which was nice because it took my mind off of the fears of labor pains I had.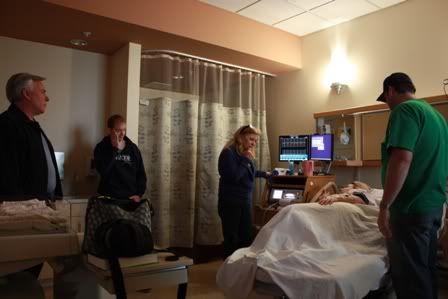 We watched the monitors for contractions to see how big they were getting.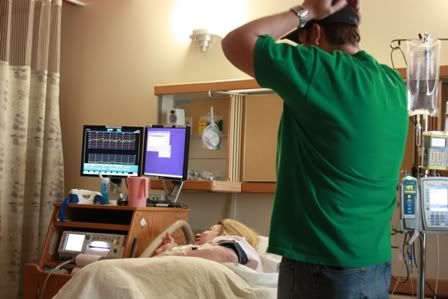 Mike talked me through the ones that were too big to talk through.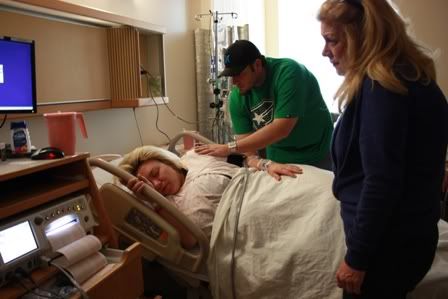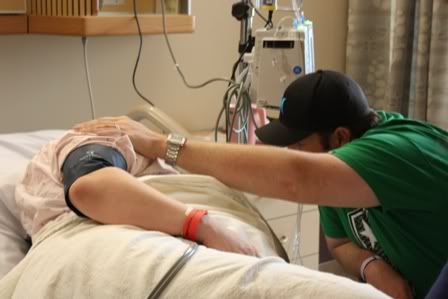 And would tell me when they were almost over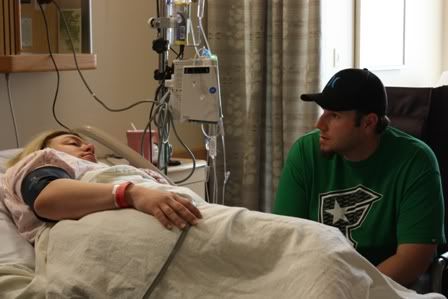 Time in between contractions were spent joking around and spoon feeding me ice lol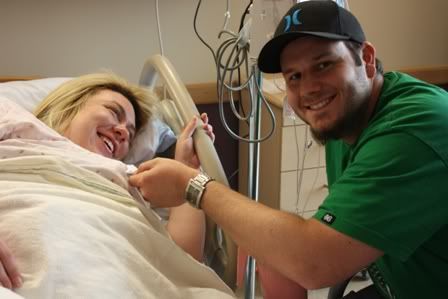 Finally the contractions were getting more intense and while they weren't lasting for long, and I could get through them, they were coming so close together that I didn't have much of a break in between them, so I asked to be checked and to start my epidural. The nurse came in to check me about 1:00pm and I was at 4cm so she called the anesthesiologist to come down and he was there pretty quickly and we got the epi going. It didn't hurt although I thought it would. The needle just felt weird and I kept hearing little like popping sounds as he was going through my back (I have no idea what he was going through to make those noises?) The epi felt amazing and I couldn't feel a thing even though my contractions were getting stronger which was awesome!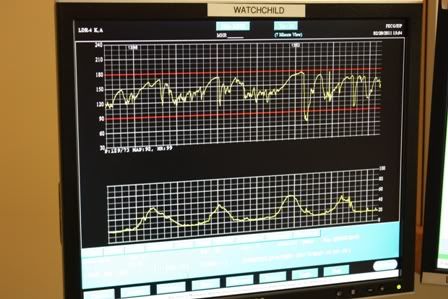 I was able to rest and joke around for a while and I sent Mike off to have lunch since he hadn't eaten anything and my room was full of family. While he was gone I started feeling more and more pressure in my back and in my rectum and finally it got to the point where it felt like I had never had an epi at all, but only in my butt, so the anesthesiologist was called in again to give me a bolus shot. My dad had to hold me up since Mike wasn't there and as soon as the Dr injected it, the room started spinning, my heart was racing and I was super dizzy, and I knew I was about to faint. This picture was right as I was about to faint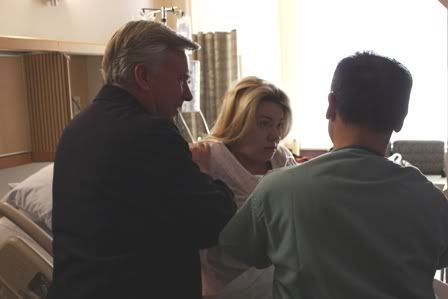 I remember looking around the room at my family and all of them having super scared looks on their faces. My dad and the Dr holding me up and the nurse running over to strap the oxygen mask on my face and I could feel the blood pressure cuff tighten on my arm. They kept telling me to lay my head back and for some reason I was fighting them and trying to sit up and stay awake which I did and finally the faintness went away but talk about scary!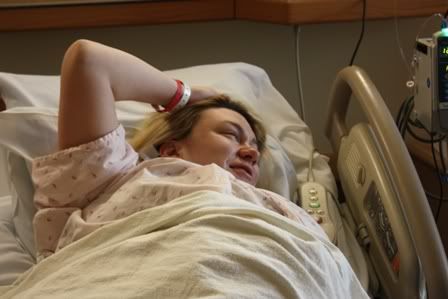 Sometime around 6:30pm I was checked again and had only made it to 90% effaced and 5.5cm. I was also given a shot (I can't remember the name of it) of something for anxiety since they were trying to get my pelvis to loosen up and I was clenching up and Jackson wasn't making his way down fast enough.
Checked again around 8:15pm and I was only 6cm and 100% effaced. Progression was SLOW and I was really starting to get exhausted.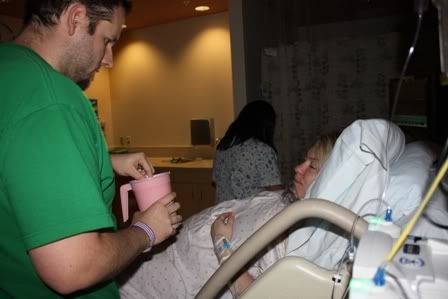 The night started to be a blur at that point but I know I was checked again and was complete but he was still at a -2 station and wasn't coming down. His head was just molding into the birth canal and not coming down under my pelvic bone. The nurse sat me up in bed and had me try and labor down to get him to drop. It was right around then they had mentioned the word "c-section" in case he wouldn't come down on his own since my pelvis is smaller than they thought and he was pretty big. I started pushing on my own through contractions when the nurse left just to try anything to help. Finally the nurse came back and said I had moved him down to almost a 0 station and even though I still needed to get to a +2 we could try pushing if I wanted as long as his heart rate was okay but we may need to really think about a section just in case. I think she was just preparing me.
We pushed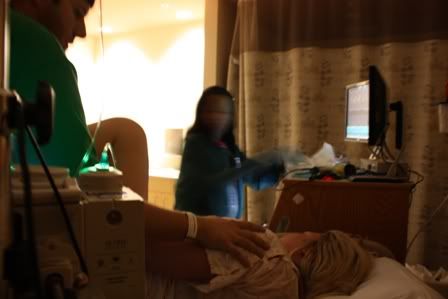 And pushed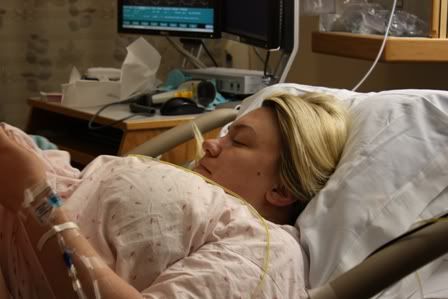 And pushed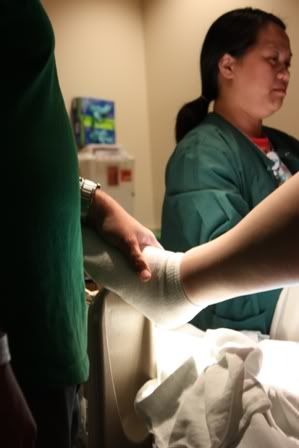 I pushed for over 2 hours. My epi had worn off again sometime in there and I had another bolus but it only lasted for about 20 minutes and wore off again so I felt everything there afterwards and felt just like this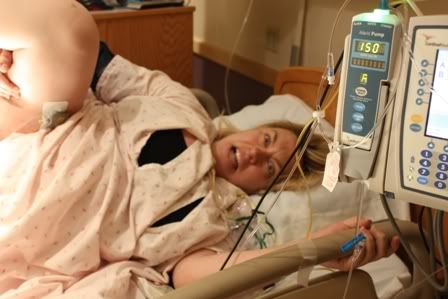 Okay okay that picture was me just being funny with my sister in between a contraction but I'm sure that's what I looked like while actually pushing too lol
Finally my Dr was called in and the nurses started breaking down my bed FAST. I could tell things were happening and I was about to finally give birth to my son.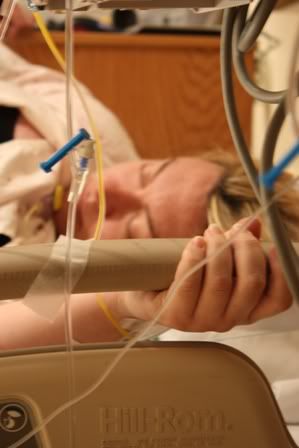 And then chaos lol. My OB came running in, nurses were trying to dress her as fast as they could, she told me to give her a tiny push then yelled to stop pushing and I remember yelling back "you have got to be kidding!" because he was crowning at the biggest part of his head and I knew that one tiny little push would have him out completely so I breathed as best as I could till she ran over told me to go ahead and I felt his head come out, immediately he turned super fast (he was sunny side up which is what caused all the horrible back labor)and then I felt her guide his shoulders under my pelvic bone (that part hurt the worst) and then I felt complete relief…
…and my life changed forever…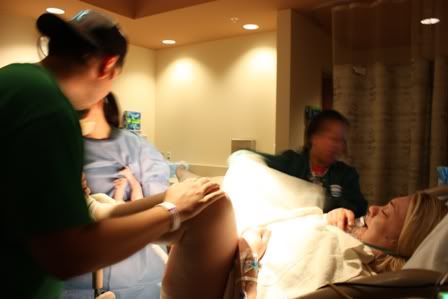 And I saw my whole heart get lifted onto my belly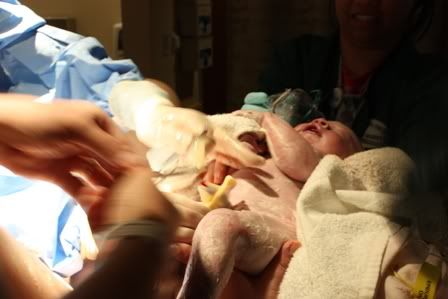 And he was screaming and crying and the first thing I said to him through my sobbing was "you are SO chubby" and he immediately stopped crying and peeked one little tiny eye open and our eyes locked, and I felt like he was looking into the depths of my soul.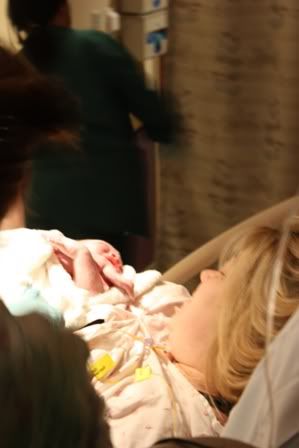 I will never ever ever forget that one tiny moment in the delivery room when our eyes locked…it was unreal. Our miracle that we had waited almost 3 years total was finally here and we just met face to face.
Jackson Carter was born at 2:59am February 21st 2011 weighing 8lbs 15oz and was 21.5 inches long. He scored an 8 & 9 on his apgars.
I was finally a mom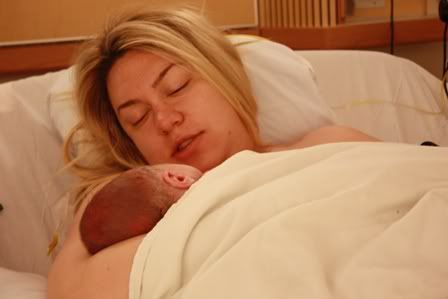 My husband was finally a dad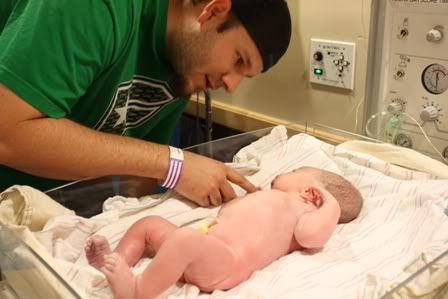 Our lives were finally complete